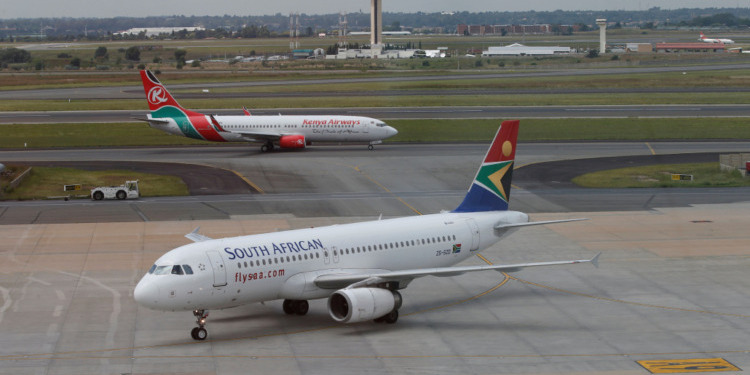 Kenya, South Africa Airways take first step towards creation of Pan African airline
Presidents Ramaphosa, Uhuru witness signing of strategic alliance
BMWORLDWIDE -Nairobi/Johannesburg – Kenya Airways (KQ) and South African Airways (SAA) have announced a new lounge access agreement for their customers as part of the Strategic Framework Agreement (SPF) signed in November 2021.
The lounge access agreement will allow KQ business class customers as well as Sky Team Elite customers (Premium and Gold) to
At the SAA lounges in Johannesburg, customers will have 2 lounge options to choose from. Both lounges offer a tranquil and comfortable escape from the hustle of the airport to freshen up, have complimentary WI-FI access, entertainment, indulge in food and beverages.
have exclusive access to the lounge services at the SAA ultra-modern Premium lounge located at O.R Tambo International Airport in Johannesburg.
Julius Thairu, Kenya Airways Chief Commercial and Customer Officer said, "One of the key objectives of the partnership between KQ and SAA is to create win-win outcomes for customers and deliver exceptional service with high level of customer satisfaction. As air travel begins to pick up we are seeing Customers demanding a more seamless, personalized experience and we will continue working closely as equal partners to ensure that the experience is seamless at every tough point."
Simon Newton-Smith, Executive Commercial at SAA says. "The lounge access will be
reciprocal for SAA customers flying to Nairobi which signals the benefits of the strategic
partnership of both airlines."
KQ and SAA signed a Strategic Partnership Framework in November 2021 to work together
to increase passenger traffic, cargo opportunities, and general trade by taking advantage ofstrengths in South Africa,  Kenya, and Africa and eventually form a Pan-African carrier.
The move was proposed by Kenyan President Umar Kenyatta after South Africa sold a 51 percent stake in South African Airways.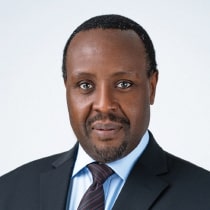 Ethiopian Airlines, the biggest carrier in Africa, has appointed a new CEO to replace Tewolde Gebremariam who left the company for medical reasons
The board of directors accepted Tewolde's request for early retirement and decided to appoint Mesfin Tasew to replace him, chairman of the board Girma Wake told a news conference in Addis Ababa.
Mesfin, a former chief operating officer of Ethiopian Airlines, is the CEO of ASKY, a pan-African airline based in Lome, Togo.
Ethiopian Airlines, a 100 percent state-owned company that prides itself on being the only profitable airline on the African continent, has achieved a turnover of $3.51 billion (3.19 billion euros) for the fiscal year 2020-2021.
In an aviation industry stricken by the Covid-19 pandemic, the airline is one of the few in the world to have managed to stay afloat without a public bailout and without laying off permanent staff.
The jewel of the economy of Africa's second most populous country, it turned to cargo freight when passenger traffic fell, including converting some of its passenger aircraft to transport cargo.
"We will have growth that goes with the market conditions, but definitely we want to continue growing… Vision 2035 is about growth," said Girma.
"Because of the war (in Ukraine), the price of fuel has shot up, plus the availability of fuel is sometimes a problem. This is really going to be a challenge," he added.
The airline announced Wednesday that Tewolde would be stepping down after 11 years at the helm, saying he had been undergoing "medical treatment in the United States for the past six months" and had requested early retirement.
The signing of the Strategic Partnership Framework was witnessed by President Uhuru Kenyatta and his South African host, President Cyril Ramaphosa on the second day of President Kenyatta's three-day State visit to South Africa. The Strategic Partnership Framework was signed by KQ Chairman Michael Joseph and SAA Chairman John Lamola in Johannesburg South Africa.
The partnership framework aligns well with the aspirations of the Africa Continental Free Trade Area Agreement (AfCFTA) of providing a single market for goods and services, facilitated by movement of persons and goods to deepen the economic integration and prosperity of the African continent. It also includes demand recovery and other cost containment strategies which will aid the recovery of both carriers in an increasingly competitive African airline environment.
Speaking at the signing ceremony, KQ Chairman Michael Joseph said, "This cooperation aligns with Kenya Airways' core purpose of 'Contributing to the sustainable development of Africa' and is based on mutual benefits. It will increase connectivity through passenger traffic, cargo opportunities, while enhancing the implementation of the Africa Continental Free Trade Area Agreement (AfCFTA). The geo location of the two countries will make the Pan-African Airline Group attractive by creating the most formidable Airline Group that is expected to take advantage of strengths in South Africa, Kenya, and Africa."
Both airlines remain committed to their financial turnaround strategy. One of the pillars to achieve this is coming together and combining assets to provide a more robust and ultimately competitive aviation ecosystem to pursue the commercial viability of both carriers
On his part SAA Chairman said, "The Strategic Partnership Framework will improve the financial viability of both airlines by creating the most formidable air transport connection in Africa by benefiting from at least two attractive hubs of Johannesburg and Nairobi. It will ignite the Kenya and South Africa tourism circuits, which account for significant portions of the respective country's GDP," said SAA Chairman John Lamola.
About Kenya Airways
Kenya Airways, a member of the Sky Team Alliance, is a leading African airline currently flying to 46 destinations worldwide, 34 of which are in Africa. It continues to modernize its fleet with its 32 aircraft being some of the youngest in Africa. This includes its flagship B787 Dreamliner aircraft. The on-board service is renowned and the lie-flat business class seat on the wide-body aircraft is consistently voted among the world's top 10. Kenya Airways takes pride for being in the forefront of connecting Africa to the World and the World to Africa through its hub at the new ultra-modern Terminal 1A at the Jomo Kenyatta International Airport in Nairobi. Kenya Airways celebrated 40 years of operations in January 2017 and was named Africa Leading Airline Brand 2020, Africa Leading Airline – Business and Economy Class 2020 by the World Travel Awards. For more information, please visit www.kenya-airways.comor call our 24HR Contact Centre: +254 20 327 4747, Twitter: @KenyaAirways, Facebook: Kenya Airways, Instagram: @OfficialKenyaAirways
About South Africa Airways
South Africa Airways (SAA) began operations on 1 February 1934. SAA, is a leading carrier in Africa, serving regional destinations between Johannesburg and six African destinations – Accra, Kinshasa, Harare, Lusaka, Lagos (from 12th December 2021), Mauritius and 1 domestic route between Johannesburg and Cape Town. It is a member of the largest international airline network, Star Alliance. SAA's core business is the provision of passenger airline and cargo transport services together with related services, which are provided through SAA and its wholly owned subsidiaries: SAA Technical (SAAT), a world class maintenance facility and Air Chefs, the catering entity of SAA. SAAT has particularly been successful in the delivery of high-quality maintenance services such as; major airframe checks; engine overhaul; mechanical components; avionics and line maintenance. From its first flight in 1934, SAA have welcomed the world to South Africa by showing off the warm generous heart of the country. The airline has more than 80 years of excellence and innovation to draw on.