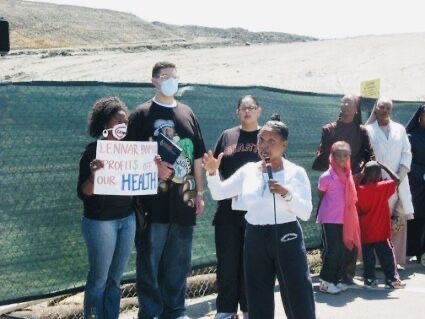 Navy must do right by Hunters Point: UCSF alumna of the year
BMWORLDWIDE–SAN FRANCISCO-The neighborhood which helped build more than 400 ships during World War II deserves a clean environment from the U.S. Navy, according to UCSF Alumna of the Year Dr. Ahimsa Porter Sumchai during the May 21 Fairness in Health session of the Dr. T. Nathaniel Burbridge Center for Inclusive Innovation.
Co-founder of the Hunters Point Biomonitoring Program, the neurologist and sports medicine expert is joined by Crystal James, Esq. MPH, director of graduate public health at Tuskegee University; and Dr. Reynold Verrett, President of Xavier University in the fifth session devoted to the Science of Fairness at 1 p.m.  Pacific.    Registration for the entire series is at souloftechnology.com
Porter Sumchai is following the techniques of Texas Southern University Professor Robert Bullard, the father of environmental justice, by conducting urine testing for more than 100 persons who live with one mile of the Hunters Point Naval Shipyard, where ships were brought to be decontaminated after nuclear tests in the Pacific during World War II.
Her presentation is a good refresher on the periodic table as she rattles off the little-known elements and heavy metals found in the specimens of Hunters Point residents despite more than $2 billion being spent on clean up of the site.
James and Verrett are also on the front lines of health equity and environmental justice in Alabama and Louisiana.  James is co-director of the Center for Rural Health and Economic Development at Tuskegee.  Verrett just announced plans to create the first new HBCU medical school in 40 years.
The late Dr. Burbridge, a native of New Orleans who attended Talladega College and came to the Bay Area during World War II, became the first tenured Black faculty member at UC-San Francisco and a globally-respected pharmacologist.  He was also president of the San Francisco NAACP during the United San Francisco Freedom Movement when he went to jail for leading the Auto Row demonstrations that desegregated the auto industry nationwide..