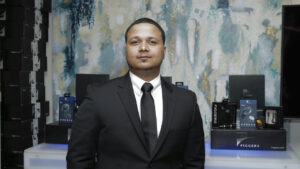 Roy Clay Technology Pinnacle winner shows importance of supporting Black business
In building a technology empire, Freddie Figgers has operated under one mantra: People over profits.
One of the youngest Black owners of a telecommunications company in America, Figgers, 30, used his resources and technological expertise to help countless people in underserved communities across the country during the pandemic — and continues to do so.
Early in the pandemic, when medical professionals and individuals lacked personal protective equipment, Figgers said he purchased 640,000 N95 masks from vendors around the world, 200,000 face shields, 300,000 disposable masks, 80,000 12-pack bottles of hand sanitizer and 50,000 gloves. Once the supplies arrived at his south Florida office, he used seven of his semi-trucks to deliver the items to coronavirus hotspots across the country.
All told, he said he spent close to $2 million in this effort, continuing his legacy of giving that began when he started his company nearly a decade ago. Figgers was in his early 20s when he built cellphone towers in rural areas across the United States and formed Figgers Wireless, which produces cellphones and other accessories and high-definition flat-screen televisions, among many other products. Today, the self-taught tech whiz and inventor said his company has been valued at $62.3 million.
The 19th annual National Black Business Month recommends Figgers products among 31 Ways 31 Days for the Holidays as it develops Global Supply Chains from Black Communities as part of Our10Plan: the African-American economic strategy. The theme of Innovation&Equity21: 50 Most Important African-Americans in Technology on Jan. 15, 2022 is Breaking the Billion Dollar Barrier. Figgers is positioned to reach that milestone with the support of African-American consumers and enlightened commercial and public customers. In 2019, the Journal of Black Innovation selected Figgers as Roy L. Clay Sr. Technology Pinnacle Award winner for his manufacturing success.
After his PPE effort, Figgers created The Doctor Now, a virtual platform that allows virtual appointments between physicians and patients, which has proven useful during stay-at-home orders.
And because coronavirus patients were quarantined and not allowed to have visitors while in hospitals or other facilities, especially senior facilities, the platform was adjusted to allow users to connect with family and friends through video calls, with a simplified interface for the less technologically savvy.
"It was important for me to help families who are suffering and can't visit hospitals or special needs facilities and aren't able to see each other," he said. "It was important to make it easy to use — one click. I saw a grandmother break down crying because she was able to see her grandchild. It was so emotional. And it confirmed that it is serving a good purpose during a very tough time, especially for Black people."
Patrick Carnegie, president and CEO of MRC Health, the leading nonprofit health care system in Florida, said he was impressed that Figgers partnered with his organization and developed the virtual platforms swiftly after the pandemic grew.
"When COVID-19 hit, it was critical for our patients to have access to the more than 250 facilities we have across Florida," Carnegie said. "Freddie was able to develop The Doctor Now platform in about 30 days and we were able to roll it out across the state and continue to provide service to patients when no one could come inside the building. He was a blessing to us."
Curtis Richardson has known Figgers since he was 12, when he worked as the psychologist at Shanks Middle School. "And he's as humble now as he was then," said Richardson, who helped Figgers fill out his first job application. "I call him a child prodigy. I knew he would do great things. But what he's doing in the community is all about his heart, his desire to do for others."
Figgers recently released a glucometer to measure blood sugar, because diabetes affects a disproportionate share of Black Americans. Still, Figgers said he will keep looking for ways to merge tech and health care to help marginalized communities. "I want to expand in health care development," he said. "There are diseases and so many that impact Black people. I want to help and there is lots of work to do."
Figgers is proving why as he is slated to become the first African American techpreneur to revolutionize the smartphone industry! He has already released and developed several innovative smart phones, but his newest phone, the Figgers F3: The first 5G smartphone in America, features an all new state of the art sleek design.
The Figgers F3 changes the narrative on the power of the smart phone as we know it. It comes equipped with a magnetic resonance wireless charging capability that allows users to charge the phone when they are within 5 meters of the Figgers Super Base charger. No cords or cables keep the phone in your pocket.
Even more, users can take their story anywhere with the F3's waterproof capability. They can also see the world as it is with the 4K Ultra High Definition screen and dual 18 megapixel cameras.
In addition, users will never run out of storage, and can free themselves from the cloud because the Figgers F3 smartphone has a record breaking storage capacity of 1TB.
The device will come factory unlocked, and will work on every mobile operator in every country in the world. Be the first to know when it's here. Sign up at: www.Figgers.com/F3.
In February, Figgers also provided free Internet service to 25,000 residents of Gadsden County through Get Connected Gadsden program for the next three months. "There are a lot of places within the county that are suffering for a long time now, for generations and years of not having proper internet service," Germain Biebe, Figgers Chief Operating Officer said.
To serve the rural Florida communities where he grew up, Figgers at 21 years old became the youngest person to acquire an FCC license.