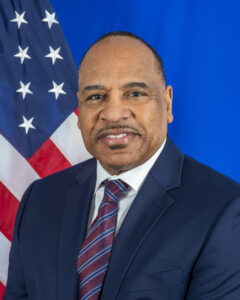 Keith Jones leads U.S. State Department's technology operations


The Journal of Black Innovation has selected Keith A. Jones, Chief Information Officer of the U.S. Department of State, among the 21st annual 50 Most Important African-Americans in Technology.  Selectees are gathering for the Journal's annual scientific proceeding, Innovation&Equity21, on the birthday of Dr. Martin Luther King Jr., Jan. 15, 2022.
Jones also serves as  Assistant Secretary of the U.S. Department of State. He is an accomplished government career and non-career senior executive, entrepreneur, and visionary with over 38 years of federal service and industry engagement. 
He is a Day One political appointee under the Biden-Harris Administration and consummate professional that has made his mark by demonstrating impactful collaboration amongst his peers and leaders across government and private industry. He is a strong advocate for employee engagement, continuous mentorship, and cultivating strategic partnerships. Those core ideas propelled his longstanding career and became his personal mantra. 
As the Chief Information Officer, he establishes technology strategic direction and provides oversight for $2.55 billion of technology programs across the Department. His span of support and oversight includes 49 bureaus, 275 posts in 189 countries, 60 domestic sites and more than 50 Federal agencies and external partners who receive IT service from the State Department's Information Resource Management (IRM) Bureau. His impact literally spans the globe. 
In his current capacity, Mr. Jones maintains his passion for putting mission, cybersecurity, workforce, and modernization at the forefront of his priorities. He looks to inspire his workforce and others through his own demonstration of close collaboration with his peers and the workforce across the IRM Bureau. 
Mr. Jones previously spent over 36 years in the federal government before retiring from the Department of Homeland Security, U.S. Citizenship and Immigration Services (USCIS) in October 2018, where he served as acting Chief Information Officer and Principal Deputy Chief Information Officer.
After leaving USCIS, Mr. Jones became President and CEO of the Edgewater Group DC and served as a principal consultant to Deep Water Point. He also served as a valued strategic advisor for the Government Technology & Services Coalition, where he felt driven by a mission to assist large to small businesses by offering business strategies and acquisition capabilities in support of government initiatives.
Also, while at DHS, he served as Deputy Executive Director of the DHS Information Technology Services Office (2008 – 2012), where he was responsible for the oversight and management of department-wide infrastructure services and managing over $900 million annual budget for enterprise and local service delivery to some 8,500 DHS headquarters users as well as every DHS component and program office.
Mr. Jones also served as the Deputy Chief Information Officer at Immigration and Customs Enforcement (ICE). His passion for mentorship and career development led him to start the ICE Career Connections Mentoring Program that launched in 2008, As the founder of this career broadening program, he provided an opportunity for hundreds of mentees and leaders across the agency to enhance their careers and leadership skills through the development of dynamic mentoring partnerships. Mr. Jones came up through the ranks in the former U.S. Immigration and Naturalization Service and a plank holder as part of the standup of the Department of Homeland Security.
Mr. Jones is a proud native of Los Angeles, California and currently a resident of Maryland. He holds a master's degree in Public Administration from the American University in Washington, DC graduating with distinguished honors. In November 2021, he was honored as one of the most impactful leaders in the federal government who strive each day to leverage technology to transform government as a FedScoop 50 award recipient as voted by federal employees and the general public. 
The 21st annual 50 Most Important African-Americans in Technology spotlights the global impact of more than 562,000 African-American technologiets.   Innovation&Equity21 is part of the year-round programming of the Dr. T. Nathaniel Burbridge Center for Inclusive Innovation, fostering cutting edge industries in African-American communities