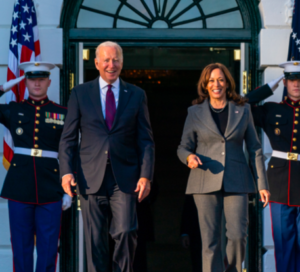 The 19th annual National Black Busines Month applauds the Biden-Harris administration and Congress for dramatic action this week on two top priorities identified in Pandemic to Prosperity: State of Black Business, 18th edition:
Signing of the Minority Business Act of 2021 last Monday as part of the bipartisan infrastructure bill, which makes the Minority Business Development Agency permanent and creates new funding resources and offices around the nation
Devoting more than $2 billion to carry out the final report of the President's COVID-19 Health Equity Task Force — $1.2 billion to increase the number of African-American and other underrepresented groups as health practitioners and almost $800 million for community based remediations for the COVID-19 pandemic
Dr. Susan Elizabeth Ford, special assistant to the President for public health and science, is featured on the cover of the BlackBio100 issue of the Journal of Black Innovation, in preparation for the Journal's annual scientific proceeding, Innovation&Equity21, on the birthday of Dr. Martin Luther King Jr., Jan. 15, 2022 in San Francisco.
NBBM Co-founder and Journal Publisher John William Templeton, author of an upcoming paper for UC-San Francisco–From Freedman's Hospitals to COVID-19: African-Americans and Federal Health Policy, testified twice to the COVID-19 Health Equity Task Force in July and September. See his presentation at UC-SF at johnwillliamtempleton.com
The annual State of Black Business reports since 2004 have identified life science and health care as the best ways to stimulate economic growth and community renewal in African-American communities. At Innovation&Equity20 last January, NAFEO President and Counsel Lezli Baskerville called for five new medical schools at HBCUs. Since then, the California legislature has invested $50 million in Charles R. Drew University of Medicine and Science in Los Angeles.
Innovation&Equity21 is part of the year-round programming of the Dr. T. Nathaniel Burbridge Center for Inclusive Innovation in San Francisco, named for the first tenured Black medical faculty in California, who was also leader of the United San Francisco Freedom Movement from 1963-65. More than 30,000 rallied to oppose Dr. Burbridge's jailing for leading the Auto Row demonstrations on Van Ness Avenue which desegregated the auto industry nationwide in 1964. The Center's goal is to increase the number of African-American doctors and biomedical entrepreneurs.
Only about 7 percent of physicians in the United States identify as Black or Hispanic/Latino despite the fact that Black and Hispanic/Latino Americans account for 31 percent of the nation's total population. Over 25 percent of physicians serving through the National Health Service Corps identify as Black or Hispanic/Latino. The mobilization of these providers is a critical step towards addressing racial and ethnic disparities in health outcomes and expanding the representation of these communities in health care professions.
Further, the United States is projected to face a shortage of almost 60,000 primary care doctors, dentists, and psychiatrists over the next decade, and needs an estimated 158,000 new nurses to graduate every year for the rest of the decade. A substantial barrier in meeting these health care needs is the student debt associated with graduate health education, which can average more than $200,000 per student and prevent students from underserved communities from even considering a career in health care professions. To further support the expansion of primary care, the Administration also plans to begin awarding $330 million in American Rescue Plan funding for Teaching Health Center Graduate Medical Education. This additional funding will further support the expansion of the primary care physician and dental workforce in underserved communities through community-based primary care residency programs in family medicine, internal medicine, pediatrics, internal medicine-pediatrics, psychiatry, obstetrics and gynecology, general dentistry, pediatric dentistry, or geriatrics.
Today's announcements directly respond to the recommendations of the Presidential COVID-19 Health Equity Task Force, which submitted its final report to the White House COVID-19 Response Coordinator earlier this month. During the Vice President's final year in the Senate, she introduced a bill that became a blueprint for the President's formation of this Task Force—recognizing that the perspective of public health experts, practitioners, advocates, and activists would be critical to support any federal effort to center equity in our pandemic response.