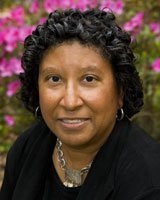 The Journal of Black Innovation and the Dr.T. Nathaniel Burbridge Center for Inclusive Innovation have selected Dr. Vickie M. Mays, director of UCLA's BRITE Center among the third annual BlackBio100.  Researcher and educator Dr. T. Nathaiel Burbridge was leader of the San Francisco NAACP during the United San Francisco Freedom Movement from 1963 to 1965, leading the Auto Row demonstrations that desegregated the auto industry nationwide. He was also a world-class pharmacologist who hailed from Talladega College in Alabama to become tenured medical faculty in California in the 1950s.
Vickie M. Mays, Ph.D., MSPH  a clinical psychologist and health policy expert is a Distinguished Professor in the Department of Psychology in the Life Science Division of  the UCLA College of Letters and Sciences, and is  a Professor in the Department of Health Policy & Management in the Fielding School of Public Health at UCLA.  Professor Mays is  the Director of the UCLA BRITE Center for Science, Research & Policy. The BRITE Center's  mission is to support the innovative use of research, science and policy development to help eliminate disparities in physical and mental health for communities that are traditionally underserved by academic research. The acronym BRITE comes from the center's tagline: to Bridge Research, Education, Innovative Training and Education for minority health disparities solutions.  As the Director of the Center, Dr. Mays served for 15 years as a NIH P60 Center Director on Minority Health Disparities.  Her research program in mental and physical health disparities among racial/ethnic  has a particular emphasis on identifying how social risk, social vulnerabilities  and the accumulation of social disadvantage associated with these disparities  produce specific and sometimes unique  negative mental and physical health outcomes.  This research and interventions occur at the level of populations, communities and even examines how social disadvantage can impact individual's immunologic and function or cognitive processes and development in the brain. She has a long history of behavioral and immunologic research on HIV/AIDS.  She edited one of the first books on HIV/AIDS with chapters on racial/ethnic minority populations, as well as publications on risk of HIV/AIDS in Black and Latino women that went on to become a classic based on its citations.   Dr. Mays received a career award for her research on women and HIV from the American Foundation for AIDS Research and a Presidential Citation from the American Psychological Association.  Over her career she has published a number of policy-changing papers.  She along with Jeffrey Swanson at Duke published a paper on gun violence and mental illness used in the development of state gun policy laws.  Analyzing  data from a number of studies on gun violence and mental illness and compared the results to media-fueled public perceptions about the dangerousness of mentally ill individuals. The researchers found that mass murderers with mental health problems, while they receive a tremendous amount of media attention, are not typical of those who commit violent crimes, and the vast majority of those with serious mental illness do not engage in violent acts.  Still, the study authors stress, gun violence can be reduced by instituting policies at the federal and state level that prohibit firearms possession among individuals who display clear risk factors for violence.  Continuing this work on violent death she and her colleagues examine   death narratives describing legal interventions (police-shootings) using the National Violent Death Reporting System comparing descriptions and data of Black vs white individuals who were killed.  Despite descriptions of less aggressive behaviors, absence of histories of mental illness and toxicology reports indicating a lack of drugs, Blacks were more likely to be killed than Whites.  She and her team have employed the use of AI algorithms in this work as well as in the detection of bias in health and health care problems.
As a postdoctoral scholar at the University of Michigan's Institute for Social Research in the Program for Research on Black Americans, Dr. Mays was trained in survey research as it applies to racial/ethnic minority populations.  She designs surveys,  phone apps for substance abuse and mental health interventions and is a certified emergency response and recovery expert.  She spent five years helping to rebuild the mental health care system in NOLA after Katrina.  She designed a counselling and response efforts for churches, working with them to become FEMA qualified in order to be  awarded contracts as emergency response sites.  Dr. Mays enjoys serving on a number of boards and committees in areas such as health technology, bias in algorithms, the education and consulting side of documentary and other film productions on issues of race, health and story development Currently, she is involved in developing statewide profiles of those most at risk for COVID-19 and other public health disasters, with the focus of designing equitable interventions to prevent death and illness in Black and other racial minority populations.  She developed one of the first webinars on COVID-19 for Black populations with the Minority Health Institute that resulted in participation of over 1500 individuals as far away as Africa.  Dr. Mays is a frequent health commentator on television, radio, print, and podcasts for local and national outlets such as the New York Times, LA Times, Forbes, NPR, Bloomberg, Telemundo, Globe, Daily Beast, Wave, Sentinel, Fox, ABC and others.  She was formerly a health correspondence for CBS2 in Los Angeles and currently is the health correspondent for the Black Recycling Dollars podcast, streamed on Facebook every Thursday at 11am PST providing timely health updates on COVID-19.  
During Innovation&Equity23, the annual scientific proceeding of the Journal, BlackBio100 selectees will gather with the 23d 50 Most Important African-Americans in Technology and the second annual 50 Most Important African-Americans in Technology on the birthday of Dr. Martin Luther King Jr. in San Francisco.  Throughout the year, these experts are providing important and timely programs each week during the Burbridge Center's scientific discourses on key topics.