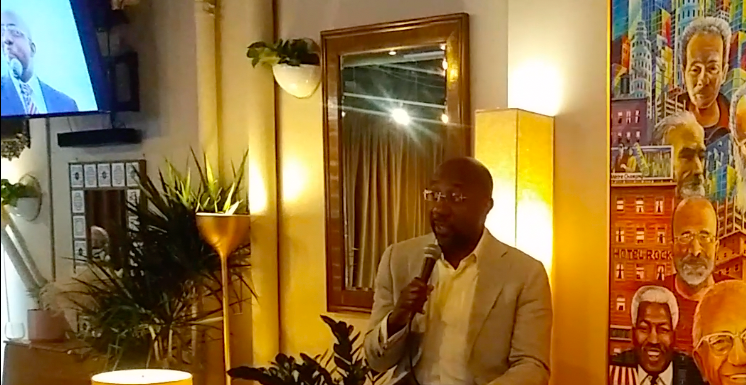 The selection of New York Lt. Gov.-designate Brian Benjamin and the election of Sen. Raphael Warnock, D-GA illustrate how economic uplift flows from political determination, according to Economics From Politics, a special presentation from the 18th annual National Black Business Month at 3 pm Eastern today.
New York becomes the eighth state with an African-American lieutenant governor when Benjamin, a state senator representing Harlem, joins Senate Majority Leader Andrea Stewart-Cousins, Speaker Carl Heastie, Attorney General Leticia James and presumptive New York City mayor Eric Adams in the state's top leadership.   Pandemic to Prosperity: State of Black Business, 18th edition ranks New York fourth in its Black Business Affinity Index because steps to make its Black business sector commensurate with the almost ten percent of all African-Americans who live there are just picking up steam.
Since the development of Our10Plan: the African-American economic strategy in 2015, African-American legislators are increasingly able to shape state and local policies which foster large-scale African-American ventures. Co-founders Frederick E. Jordan, P.E. and John William Templeton are honored Sunday in another state with a Black lieutenant governor, New Jersey, by the New Jersey African-American Chamber of Commerce at 5 p.m. Eastern.
Sen. Warnock told a San Francisco fundraiser that it would take "praying feet," in the words of a close friend of Dr. Martin Luther KIng Jr. to protect the fruition of the 15th Amendment, one of three Constitutional Amendments passed in appreciation for the service of 209,145 U.S. Troops of African Descent to preserve the Union in the Civil War. "Representation matterrs," referring to the Cruz-Warnock amendment to the bipartisan infrastructure bill that extends 1-14 from Georgia to Texas. "He needed it; I needed it. It's not complicated." His election also meant the issuance of $2,000 panfdemic relief payments; monthly child care tax credits, billions for HBCUs and Black farmers.
Similarly, 90 percent turnouts by Black voters in elections from 1866 to 1870 led to the passage of the 15th Amendment. Templeton is author of We Fought, We Vote: 150th anniversary of the 15th Amendment. Warnock said passage of the For The People Act and the John Lewis Voter Improvement Act would be among his top priorities upon his return from the Senate recess.
Central Brooklyn Economic Development Corp., chaired by Templeton, received this week a criminal justice grant from New York State to support its work in Brownsville to build an ownership society.
As deliberations advance on the American Jobs Plan, the September issue of the Journal of Black Innovation will feature the 23rd annual 50 Most Important African-Americans in Technology and a new list, the 50 Most Important African-Americans in Infrastructure. On the cover is Gen. C.Q. Brown, chief of staff of the U.S. Air Force, now carrying out the most complicated airlift in history.