Description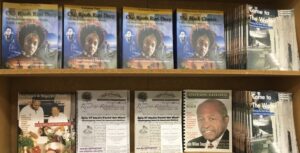 The foundation for the 6,000 site California African-American Freedom Trail is the 30-year track record of Our Roots Run Deep: the Black Experience in California, Vols. 1-4, winner of the Library Laureate award of the Friends of the San Francisco Public Library and the Sesquicentennial Commendation of the California Sesquicentennial Commission.  Author John William Templeton transforms the landscape of American history with the uncovering of the Black queen who gave the Golden State its name.   Sparked by the Rodney King incident, Templeton compiled the primary source record of the central role from 1510 through 1900 in Volume One in 1991.
With San Diego educator Agin Shaheed, grandson of late 19th century power broker C.C. Flint in Los Angeles, Templeton extended the history into Volume 2, covering the period from 1900 to 1950.
Under a grant from the California Council for the Humanities and a commission from the California Academy of Sciences, the historian brought the history forward since 1950 in Volume Three.
Given the experience of educators in San Francisco, Los Angeles and Oakland to gain two-grade point average improvements, Volume Four was designed specifically for classroom use based on the pedagogy of Sylvia Wynter.  The Black Queen: How African-Americans Put California on the Map contains thematic lesson plans structured for every age level from kindergarten to post-graduate.  It also includes the 150 Most Important Black Californians and a bibliography.
The resulting 1,400 book set is life changing, particularly for African-American women who begin to envision themselves in the words of Las Serges de Esplandian, "the most beautiful of women."  To know that California literally means a land where Black women live is emotional at any age.  Presented with scientific clarity and pedagogical sophistication, the lesson plans of The Black Queen have been controversy free for 30 years