$16 billion to Black businesses from PPP in 2021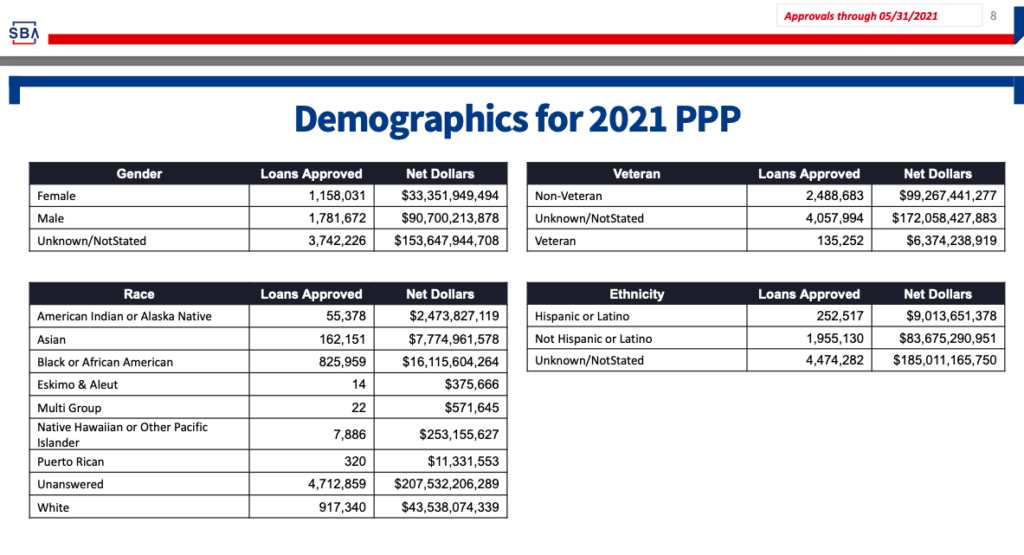 The Biden-Harris Administration made a 20-fold improvement in Payroll Protection Program loans to Black-owned businesses in 2021, with loans topping $16.1 billion by May 31 to 825,000 borrowers, reports 18th annual National Black Business Month Co-Founder John William Templeton during a speech to the New Jersey African-American Chamber of Commerce Aug. 31 at 5 p.m.
The previous administration did not track the race of borrowers, so Templeton independently tracked the data last year to determine that less than $700 million of the $700 billion allocated had gone to Black-owned firms, leading to Congressional mandates sponsored by Financial Services Chair Rep. Maxine Waters.
With Co-Founder Frederick E. Jordan Sr. PE, Templeton will discuss economics from politics in the first of two programs on the last day of the 18th annual National Black Business Month.
The changes included an exclusivity period for the smallest firms.
According to the Small Business Administration, "Putting equity at the center of its policies and programs, the Biden-Harris Administration launched a comprehensive plan to engage small businesses and nonprofits, focusing on building trust in underserved communities.
The cornerstone of reforms included a 14-day exclusivity period (February 24-March 9) where only businesses and nonprofits with fewer than 20 employees could apply for relief through the PPP. This period was to give lenders time to focus on reaching out to the smallest of small businesses left behind in previous rounds.
Early indications show program reforms and efforts to engage with communities authentically are working in meaningful ways. As of March 7, a comparison of the daily average rate of loans made during the exclusivity period and daily average rate ten days before the exclusivity period show loans to:Minority-owned businesses up by 20%, or an additional 1,000 businesses accessing relief each day"
Patrick Kelley, Associate Administrator for SBA's Office of Capital Access said:"Expanding equity and opportunity in the Paycheck Protection Program is a top priority for the Biden-Harris Administration. More than just providing access, the latest data represents a step in the right direction for our agency-wide mission to support the smallest of small businesses – Mom-and-Pop, women- and minority-owned businesses – which will strengthen our communities and help set America's economy on the right path."Julie Verratti, Associate Administrator for SBA's Office of Field Operations added:"Meeting small businesses wherever they are is critical to advancing our goal of equitably supporting underserved small business communities, especially women and minority-owned businesses."
Now, firms are finding bottlenecks from major banks being remediated in the forgiveness process by new SBA initiatives.
Since the opening of the Paycheck Protection Program (PPP) Direct Borrower Forgiveness Portal on August 4, the U.S. Small Business Administration has received more than 340,000 submissions from borrowers with PPP loans of $150,000 or less, highlighting Administrator Isabella Casillas Guzman's priority of rushing relief to the smallest of small businesses and far exceeding expectations.
In providing its new, streamlined portal, the SBA is also executing the Biden-Harris Administration's goal of centering equity in all programs. With outstanding debt saddling millions of disadvantaged and underserved small businesses, increasing the rate of forgiveness to PPP borrowers will have an immediate effect in helping the smallest of small businesses recover from the pandemic and access other resources. Prior to this option, businesses that did not apply for forgiveness within 10 months of the end of the covered period were at risk of owing principal and interest payments on their PPP loans.