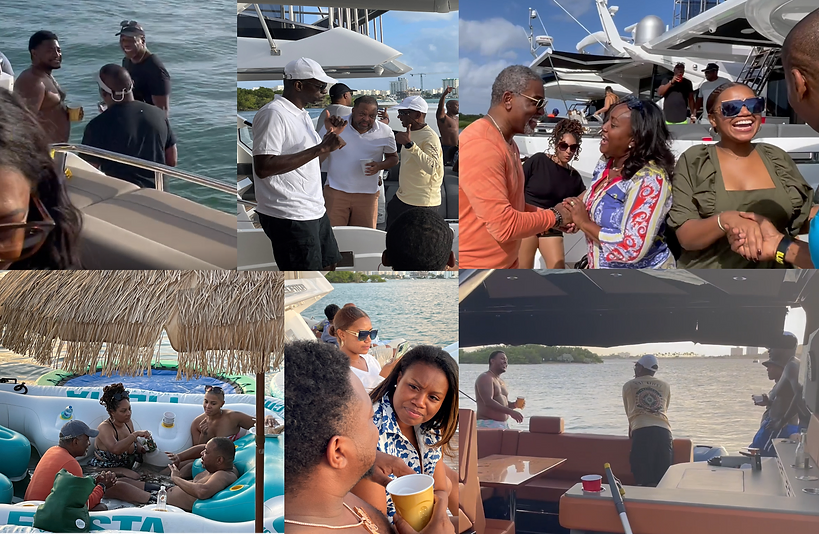 Bahamas welcomes boaters all summer long
FORT LAUDERDALE, Florida – The Bahamas Ministry of Tourism, Investments & Aviation (BMOTIA) Summer Boating Flings are gearing up for a full summer schedule. Every weekend, from 14 June through 31 July, beginner and veteran boaters will take to the seas, crossing the Gulf Stream to experience an "ocean road trip" across a number of Bahamian islands.
That follows the June 1-4 Black Boaters South Florida Bimini Bash, the first time a group of Black boaters went to the islands as a group. More details at blkboaters.com
Boaters can choose from flings to Grand Bahama, Bimini or Exuma. Guests will have a chance to go fishing, explore the islands' historic and popular dive sites, the beautiful coral reefs and the diverse sea life, as well as hang out with locals, taste the delicacy of Bahamian cuisine and immerse themselves in Bahamian culture and heritage.
The dates for Summer 2023 Boating Flings are:
15 June – 18 June – Bimini
22 June – 25 June – Bimini
6 July – 16 July – Extended Fling – Exuma
20 July – 23 July – Bimini
27 July – 30 July – Bimini
Flings depart from Bahia Mar Yachting Center in Fort Lauderdale. All vessels must have a valid cruising permit obtained prior to departure in order to facilitate initial clearance and entry process in The Bahamas. Bahamas tourism officials are encouraging persons to experience the full schedule by choosing to be a part of all of the summer boating flings. Registration remains open for all flings, but spots are reserved on a first come, first serve basis and dates are subject to change.
It is recommended that interested persons attend a Captains Meeting at the Bahia Mar Marina in Fort Lauderdale. Meetings are held on the Wednesday before each fling and begin promptly at 6:30 p.m. For more details on registration fees and other information, please visit https://www.bahamas.com/boating-fling-registrationational.
Whether persons are planning a quick trip or a leisurely island-hop across multiple islands, The Bahamas' crystal-clear waters and warm temperatures make it an irresistible destination for boating. Throughout The Bahamas, boating enthusiasts can find well-equipped marinas with all the boating and docking essentials for boats of all sizes and stays of any length. The Association of Bahamas Marinas also offers boaters convenient reservation and booking services available via call center, toll-free: 844-556-5290, or U.S.: 954-462-4591, or email [email protected].
ABOUT THE BAHAMAS
The Bahamas has over 700 islands and cays, as well as 16 unique island destinations. Located only 50 miles off the coast of Florida, it offers a quick and easy way for travellers to escape their everyday. The island nation also boasts world-class fishing, diving, boating and thousands of miles of the Earth's most spectacular beaches for families, couples and adventurers to explore. See why It's Better in The Bahamas at www.bahamas.com.