austin, brown unveil b-21 raider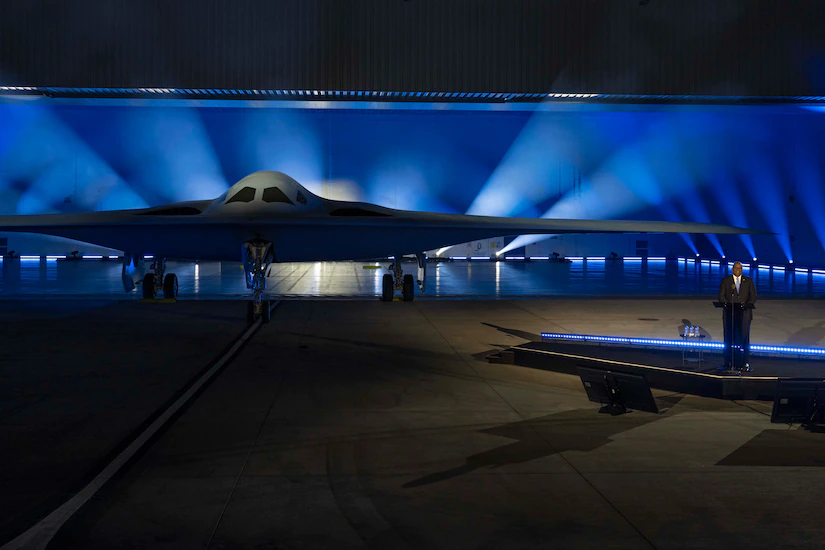 The Defense Department unveiled its newest bomber aircraft, the B-21 Raider, in Palmdale, California. As the first strategic bomber in more than three decades, the Air Force's B-21 will serve as the backbone of America's bomber force, Secretary of Defense Lloyd J. Austin III said.
"It's a testament to America's enduring advantages in ingenuity and innovation and it's proof of the department's long-term commitment to building advanced capabilities that will fortify America's ability to deter aggression, today and into the future."
The B-21 Raider is expected to serve within a larger family of systems for conventional long-range strike, including intelligence, surveillance and reconnaissance; electronic attack; communication; and other capabilities.
"That innovative spirit is sitting behind us right now," Air Force Chief of Staff Gen. CQ Brown, Jr., told reporters shortly before the plane was unveiled.
"You think about what we're able to do in the amount of time with the workforce here from Northrop Grumman, the collaboration with the United States Air Force to bring in a capability using a digital approach which is new and different from anything we've done any major program, that's part of the Raider spirit," he said.
The B-21 is the first new bomber to be introduced since the end of the Cold War. Air Force officials envision an ultimate fleet of at least 100 aircraft with an average procurement unit cost requirement of $692 million (base year 2022 dollars).
"When I think about accelerate change, this is exactly what it means to be able to bring this kind of capability very quickly and be able to adapt it vis-à-vis the threat," Brown said in his meeting with reporters. "And so today, I'm really excited that we bring the B-21 Raider into the future. It'll be the backbone of our bomber fleet."
It is nuclear capable and designed to accommodate manned or unmanned operations. Additionally, it will be able to employ a broad mix of stand-off and direct-attack munitions.

At the hangar of aircraft manufacturer Northrop Grumman, the B-21 was unveiled amidst dramatic music and lighting effects. The new bomber has a silhouette similar to that of the B-2 Spirit bomber.
"The B-21 looks imposing," Austin said. "But what's under the frame and the space-age coatings is even more impressive."
The range of the B-21, Austin said, is unmatched by any other bomber.
"It won't need to be based in-theater, it won't need logistical support to hold any target at risk," the secretary said.
Like the B-2 Spirit, the B-21 Raider is a stealth aircraft. It will be hard for adversaries to see that it's coming, Austin said.
"Fifty years of advances in low-observable technology have gone into this aircraft," he said. "Even the most sophisticated air-defense systems will struggle to detect a B-21 in the sky."
Austin also said the B-21 Raider is designed to be easily maintainable, which will help ensure that the aircraft is always ready to go when its needed.
"We don't really have a capability unless we can maintain it," he said. "The B-21 is carefully designed to be the most maintainable bomber ever built."
As a dual-capable penetrating strike stealth bomber, the B-21 Raider is capable of delivering both conventional and nuclear munitions. It will be able to support joint and coalition forces across the full spectrum of operations, Austin said, and is also designed to be flexible enough to meet the evolving threat environment. "The Raider was built with open-system architecture, which makes it highly adaptable," Austin said. "As the United States continues to innovate, this bomber will be able to defend our country with new weapons that haven't even been invented yet. And the B-21 is multi-functional. It can handle anything from gathering intel, to battle management, to integrating with our allies and partners. And it will work seamlessly across domains, and theaters, and across the joint force."
The B-21 Raider was built by Northrop Grumman and was developed through deep partnership with stakeholders in the U.S. military, Austin said.