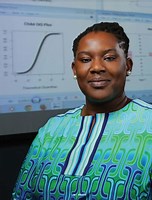 The Journal of Black Innovation and the Dr.T. Nathaniel Burbridge Center for Inclusive Innovation have selected ClarLynda Williams-DeVane, deputy state health director for North Carolina, among the third annual BlackBio100.  Researcher and educator Dr. T. Nathaiel Burbridge was leader of the San Francisco NAACP during the United San Francisco Freedom Movement from 1963 to 1965, leading the Auto Row demonstrations that desegregated the auto industry nationwide. He was also a world-class pharmacologist who hailed from Talladega College in Alabama to become tenured medical faculty in California in the 1950s.
ClarLynda Williams-DeVane is a health disparity informaticist. Dr. Williams-DeVane currently serves as the Senior Deputy Director for the Division of Public Health, the Deputy State Health Official for North Carolina, and the North Carolina State Registrar. Dr. Williams-DeVane formerly served as the founding chair of the Data Science and Bioinformatics Department at Fisk University and an associate professor of Bioinformatics at NC Central University. Dr. Williams-DeVane earned her Bachelor of Science degree from North Carolina Central University and PhD in Bioinformatics from North Carolina State University. She also completed a Postdoctoral fellowship at the US Environmental Protection Agency and a Building Interdisciplinary Careers in Women's Health (BIRCWH) fellowship in OB Gyn at Duke University School of Medicine.
Dr. Williams-DeVane is a fierce believer in health equity and the elimination of health disparities. Dr. Williams-DeVane's research has been focused on the development of inclusive data infrastructure that anyone can access and understand towards the elimination of health disparities. She believes that it requires diverse voices from various backgrounds to solve complex problems like health disparities. She has spent a significant portion of her career thinking about reciprocal data literacy where community members, particularly those from historically marginalized populations (HMPs) , have the ability to teach data practitioners how to better visualize and communicate about data and data practitioners teach community leaders and members about data as a tool for understanding and decision making. To this end, Dr. Williams-DeVane is the thought leader of the Health Equity Data Consortium where Historically Black Colleges and Universities (HBCUs), Minority Serving Institutions (MSIs) and other HMP serving institutions partner with the NC division of public health and community-based organizations to 1) collect data to drive health equity, 2) create a platform for reciprocal data literacy, and 3) create a diverse pipeline for the future of public health. Dr. Williams-DeVane is focused on moving North Carolina forward in Equitable Public Health Data and building a sustainable public health system infrastructure.
Dr. Williams-DeVane is the proud wife of a middle school administrator and mom of two amazing boys. She enjoys volunteering on several non-profit boards including Tri It for Life, an organization that supports women into healthy, empowered lifestyles through the sport of triathlon and several organizations that support her sons' love of baseball.
During Innovation&Equity23, the annual scientific proceeding of the Journal, BlackBio100 selectees will gather with the 23d 50 Most Important African-Americans in Technology and the second annual 50 Most Important African-Americans in Technology on the birthday of Dr. Martin Luther King Jr. in San Francisco.  Throughout the year, these experts are providing important and timely programs each week during the Burbridge Center's scientific discourses on key topics.